But the vital first step was to restore the site's industrial legacy comprising a chimney and an old water tower. For that, Covivio called on the expertise of Lorenzo Jurina, a civil engineer and professor of "Construction Technology, Redevelopment and Structural Consolidation" at Politecnico di Milano, considered one of Italy's leading experts in the field of historic building renovation.
Could you tell us about the water tower and chimney in the southern part of the Symbiosis site? How did you integrate them into the project?
Prof. Lorenzo Jurina: Restoring the Symbiosis chimney and water tower was a tremendously exciting and challenging process. They are historical monuments, examples of 20th century industrial architecture, which we redeveloped in an environmentally friendly manner in collaboration with Covivio and the Soprintendenza Archeologia, Belle Arti E Paesaggio, the Italian institution in charge of protecting architecture and heritage buildings.


The basic idea was not just to preserve these historical monuments but to reuse them, giving them a new life and new functions. The water tower will serve as a rainwater collector for watering the garden and lawns, while the chimney from which smoke produced by industrial processes used to billow will now be used to contain air for cooling the indoor areas of the new office buildings.

Lorenzo Jurina
Civil engineer and professor at Politecnico di Milano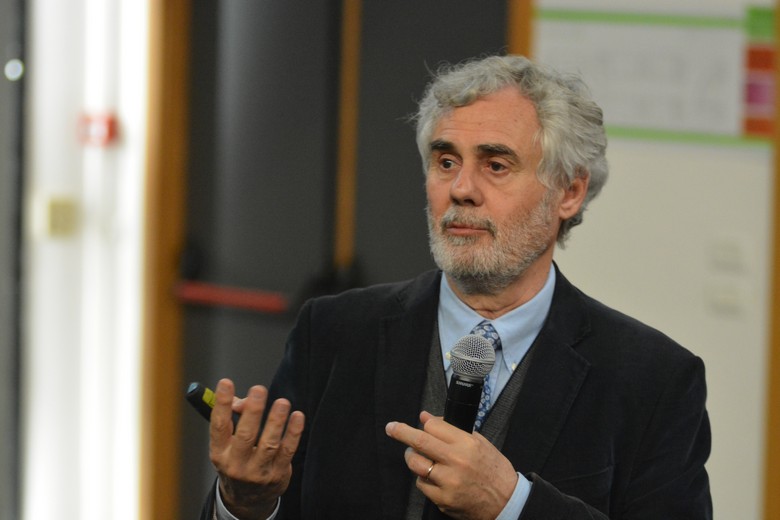 Old and new will complement each other: one could almost say they will be in "symbiosis". That resonates with Covivio's aim of innovating in keeping with the site's history. The approach also extends to the presence of certain recurring elements in the Symbiosis complex: water basins reminiscent of paddy fields; the wide strip of the ruderal garden in Piazza Olivetti, in which various species grow spontaneously; or the area planted with Prunus padus, the cherry trees typical of forests in Lombardy.
Why is it important to preserve historical vestiges like these?
Prof. Lorenzo Jurina: The water tower and chimney were witnesses of an everyday life very different from our own. People living a century ago were used to seeing these kinds of objects working every day. Today, they look out of place, and we ask ourselves what they are still doing here in a district like Symbiosis undergoing extensive renewal. This is not a fashion or passing fancy: it's simply a testament to a life that continues and evolves, adapts and adopts new functions and uses, but upholds the same purpose as ever: to be part of our daily lives.